As previously mentioned, our little family consists of myself (27), Dave (30), and our three kitties Sakura (4), Hikaru (4), and Miria (1 1/2). Yes, we are on the verge of being crazy cat people. In our defense, they are really cute.
If someone had told us six years ago that we would one day own three cats they would have gotten very skeptical looks. I love cats and grew up with two, but Dave was mildly allergic and not a big fan of kitties. In fact, when we moved from our apartment to a condo four years ago we had every intention of getting a puppy. Unfortunately, our realtor was misinformed about the condo association's no dog policy. After much discussion the search was on for a cute kitten.
After having a disappointing encounter with one agency we finally found a great rescue a few towns over. They specialized in catch, spay/neuter, and release in large feral cat communities. While checking out their adoptable kitten list on Petfinder.com this sweet little monkey caught our eye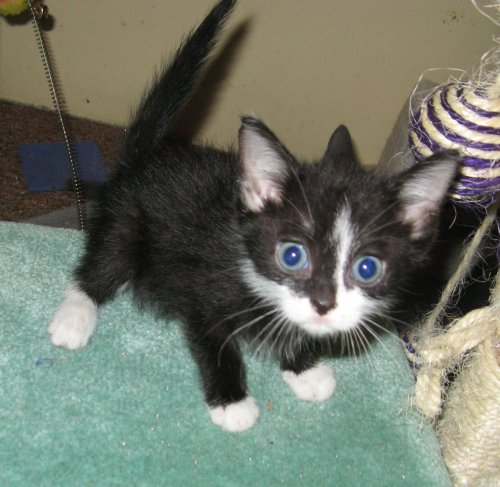 One meeting with Hikaru, then Athena, was all it took to melt our hearts. She was so tiny, but absolutely fearless. We had only planned on adopting one, but it was easy to see that we're soft touches. The foster mom quickly pointed out that Hikaru and her sister Sakura, then Venus, had bonded closely and asked if we would consider adopting both.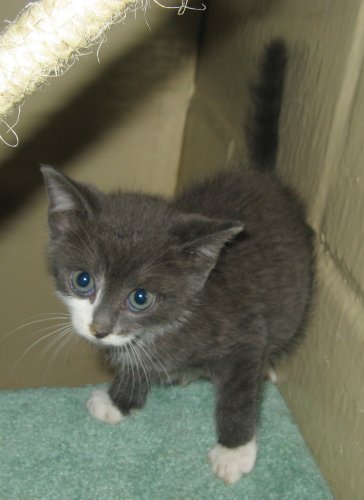 How could we resist that sweet little face? So we came home with two little kittens. It was one of the best decisions we ever made. Now onto the question we get the most. What is up with their names? Dave and I are huge anime (Japanese animation) nerds. Hikaru is named after a character from Magic Knights Rayearth and Angelic Layer by CLAMP. The character is small in stature, but feisty and tenacious. A perfect name for our tiny yet brave tuxedo kitten. Sakura is named after the title character of Card Captor Sakura also by CLAMP, a favorite of ours. The character is energetic, smart, but can be skittish and reserved. Fitting for the wary and clever gray and white kitty.
They have amazing personalities and at times act more like dogs than cats. Super social, they will greet you at the door and expect immediate pets. Sakura enjoys lounging on the back of the couch and watching TV with us while Hikaru prefers curling up under your blanket and napping.
The summer before last it felt time to add to our little family. Neither of us were ready for a baby so we started searching for a new kitty addition. A new shelter had opened in our town and we found a sweet little girl named Taffy. The shelter didn't do any testing on the strays so we brought her directly to our vet and kept her quarantined until the results came back. The next day we got devastating news, she tested positive for feline leukemia. With heavy hearts she was returned to the shelter, we could not risk the health of Hikaru and Sakura.
We began our search again and decided to go back to the rescue that had given us our two sweet girls. Browsing through their adoptable kittens one immediately caught our eye.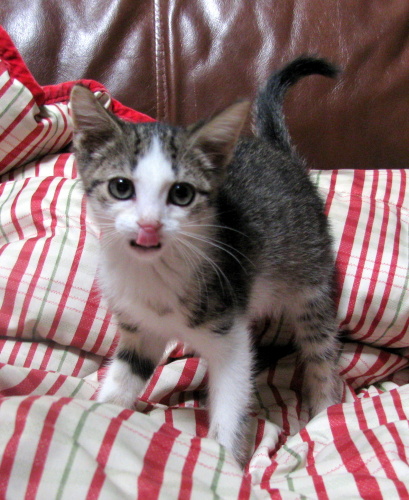 Little Miria, then Cassie, was another tiny kitten with tons of spunk. We met her a few days later and quickly fell in love. The foster mom had a large rabbit that ran around with the kittens and he was Miria's best friend. Because of this she still hops like a bunny when running around the condo. Her name comes from the anime Baccano after a character who is bubbly, talkative, and quite random.
There was an icy period after bringing her home, as there usually is with introducing new pets. It took time and patience, but now they are all the best of friends. Sorry this got a little long, but we love our cats very much and they are a huge part of our lives.
About Me
Day 6: 10 favorite foods
Mashed potatoes
Chips and guacamole
Chicken Saltimbocca
Mac & cheese
Grilled cheese and tomato
Cheeseburgers
Fried calamari
Caprese (tomato, fresh mozzarella, and balsamic)
Corned beef hash
Shepherd's pie
~Meg